URL: ../../../e13/e21/e727/index_eng.html

&NBSP EUDET
JRA1 - Users Information
Within EUDET JRA1 a high resolution telescope is being developed. This telescope is available to use it for tests at test beams, mainly at DESY or CERN. If you would like to use this telescope, please contact Ingrid-Maria Gregor (Ingrid.gregor@desy.de) for more information. The application for the telescope within the Transnational Access of EUDET can be found here.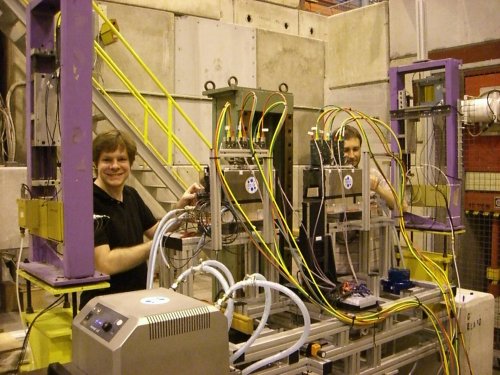 The "package" we offer to the user comprises the telescope itself, trigger hardware, readout computer, DAQ software and analysis software. Please find detailed information below.

The telescope consists of two arms each equipped with three layers of pixel sensors. Between these arms the device under test (DUT) can be placed. A technical drawing of the whole mechanical setup can be found here.
The DUT can be moved in x and y direction using precise actuators (the beam axis is the z-axis), as well as rotated in small steps with respect to the beam axis.



Phone Numbers
A list with phone numbers can be found here.



"Data Taking Manual"
This manual is intended to enable unexperienced users to take data using the pixel telescope.



EUDET running with DUT
This page summarises special commands for the case of DEPFET and MIMOROMA being the DUT.



DUT table movement
The DUT is mounted on an x-y-table, that can be moved from outside the experimental area with the MAC used for data taking.



Some Remarks for the DAQ PC
This page summarises the necessary actions after the restart of the MAC for setting up a Parallels Desktop with Linux and correct network connections.



Boot setup for the MVME6100
A description of the boot setup for the MVME6100.



"JRA1- Data Acquisition System"
This memo describes the data acquisition system, giving an overview of actual hardware and software developments.



"The JRA1 Online Monitor"(link)
This Memo describes the EUDAQ online monitor.



"EUDAQ Software" (link)
The DAQ software for the pixel telescope and some technical documentations can be found on the web page mentioned above.



"JRA1 Trigger Logic Unit"
This memo describes the JRA1 trigger logic unit.


"EUTelescope Software"




"EUTelescope: Tracking Software" (link)
This memo describes the software tool performing all the off line procedures needed to extract from the data acquired by the DAQ the precise spatial information. The current status of the development of the tracking software tool named EUTelescope as well as foreseen future improvements are specified.



"Software Tutorial" (link)
In this tutorial a short step-by-step analysis is described using a set of example steering, raw and lcio files. All files mentioned in this tutorial are available here.



"EUTelescope Software" (link)
On the EUTelescope documentation server explanations and examples that might be needed to run the EUTelescope processors within Marlin are given. The (outdated) CVS repository can be found here and the new svn repository with the most recent Eutelescope version here.






---
© 2016 Deutsches Elektronen-Synchrotron DESY